ALEXANDROS BLETSAS PHYSIOTHERAPY CENTER
The paraffin bath is a paraffin heating device that achieves an increase in surface temperature.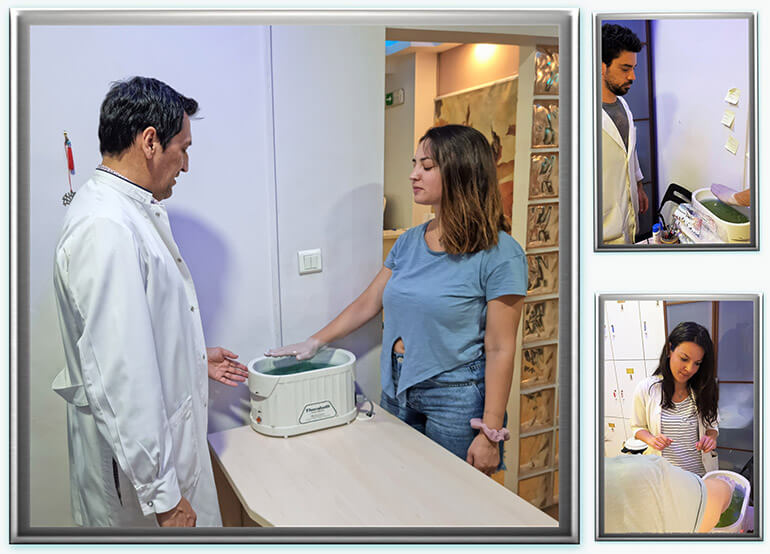 The paraffin bath is a natural means of surface heat therapy and deep skin hydration. The device is plastic on the outside and aluminum on the inside, where paraffin is melted at about 51 to 53 degrees Celsius.
Increase in the temperature of blood and lymph circulation.
Due to its nature, paraffin leads to greater temperature increase of the tissues and is more tolerable than water.
Increased metabolism due to increased enzyme activity.
Increase trophicity and oxygen absorption in the area.
Muscle relaxation, reduction of muscle spasm and joint stiffness.
Absorption of edema and hematomas and reduction of inflammation.
PAIN REDUCTION
Limb fractures (general).
Wrist and foot arthritis.
Stiff joints.
Atopic dermatitis.
Rheumatoid arthritis (to strengthen connective tissue).
Open wounds.
Skin infections.
Peripheral vascular infections.
Sensory disturbances.
Clean and dry hands
No watches and jewelry.
Temperature test
Gently place your hand inside and gently pull it out again.
Pause for about 3 seconds.
Repeat approximately 10 times to create a satisfactory paraffin glove.
Avoid any finger movements so that the paraffin does not break.
Placement of a protective bag over the paraffin glove to retain the heat and for sanitary purposes.
Wrap with a towel to stabilize the temperature and for sanitary purposes.
Remove after approximately 10 minutes.
Minimum of 10 treatments.
Note:
Do you want to feel your hands soft and hydrated? Take a paraffin bath every 20 days.
Even from the 1st treatment your skin is visibly smoother and softer.
Ideal for rough, dry, dehydrated or chapped skin on the hands, feet and elbows.
We have the solution for you: paraffin bath