ALEXANDROS BLETSAS PHYSIOTHERAPY CENTER
Diathermy is a therapeutic method, recommended for diseases or problems of the muscles and joints.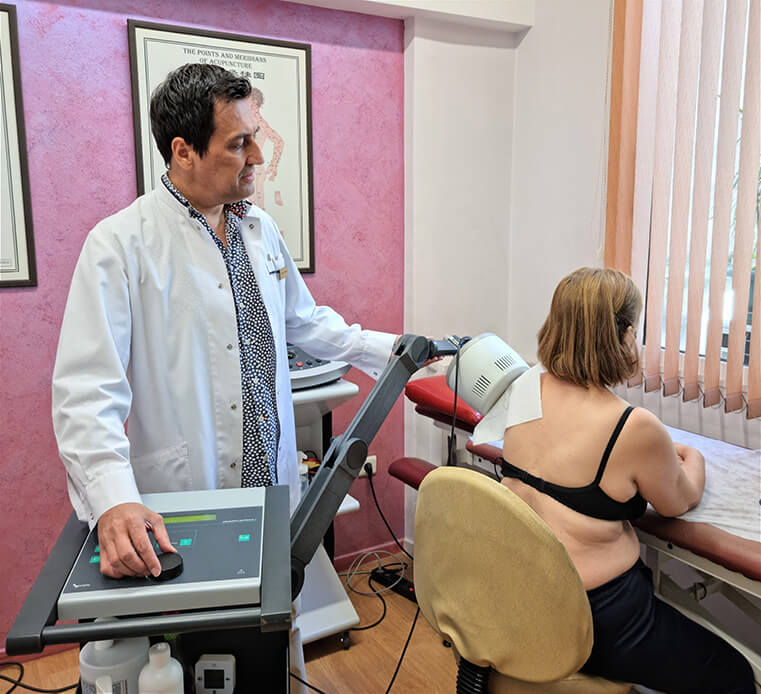 Diathermies are devices that use high-frequency currents to produce electromagnetic energy that is converted into thermal energy inside the body.
Increase in the temperature of the blood and lymph circulation.
Increased metabolism, oxygenation, enzyme activity and glandular secretion.
Reduction of muscle spasm, pain and joint stiffness.
Reduction of inflammatory infiltrates and edema.
Acute and chronic inflammatory and traumatic conditions.
Arthritis (osteoarthritis and rheumatoid arthritis).
Ligament injuries, muscle strains and tears, serous bursitis.
Mobilization of rigid joints.
Secondary muscle spasms.
Cervical spine syndrome
Lower back pain, sciatica, intervertebral disc herniation.
Shoulder periarthritis, tendinitis.
Epicondylitis
Muscle and tendon injuries, sprains.
Hip and knee osteoarthritis.
Fractures
Rheumatoid arthritis, ankylosing spondylitis.
Dysfunctions - problems of the muscles and tendons.